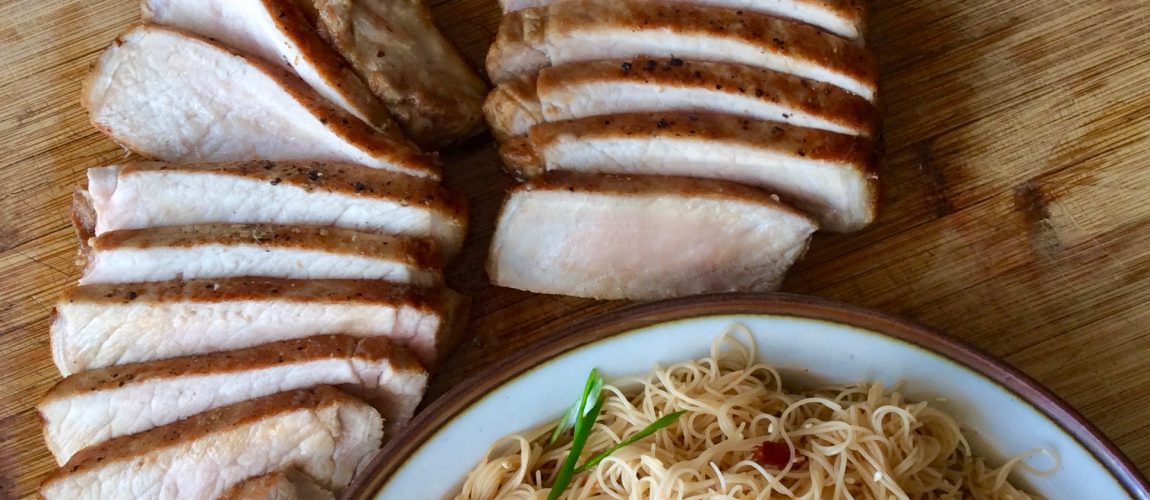 Allspice Pork Chops & Easy Sambal Vermicelli
Brine for Pork Chops
1/2 C Kosher Salt
1/4 C Brown Sugar
15 whole Allspice Berries, toasted
10 whole Black Peppercorns, toasted
2 Bay Leaves
2 sprigs fresh Thyme
4 C Water
In a medium saucepan, add all dry ingredients and 2 cups of water. Bring mixture up to a low simmer, stirring to dissolve salt and sugar. Remove from heat and add remaining 2 cups of water. Set aside and let cool down to room temperature.
Allspice Brined Pork Chops
2 (10 oz each) bone-in, center cut Pork Chops
2 Tbsp Vegetable Oil
freshly ground Black Peppercorns to taste
In a large non reactive bowl, add pork chops to room temperature brine. Make sure chops are completely covered – weigh down with a small plate if needed. Cover and refrigerate for at least 6 hours – overnight is ideal.
When ready to cook, remove chops from brine and blot very dry with paper towel. Let chops come slightly up to room temperature (at the very least, remove from fridge 5 minutes before cooking to take the chill off, for more even cooking.) Preheat oven to 350 degrees F, and have a small baking sheet (with a wire cooling rack if you have one) standing by.
Heat a cast iron (or other oven ready) pan to medium high and add vegetable oil. Season pork chops with pepper and sear over high heat, pressing down very slightly, until lovely dark golden brown, about 5 minutes on one side. Flip the pork chop and place the entire pan with pork chops directly into the oven, for 10-12 minutes or until chops are cooked to desired doneness. Check with an instant read thermometer inserted sideways into the the thickest part of the chop – it should read 150 F – remembering that the chop will continue to cook as it rests.
Remove chops from oven and let rest at least 10 minutes, tended with foil to keep warm, before slicing. To serve, slice in 1/2 inch thick pieces towards bone, leaving a nice piece remaining on the bone (that's the cook's treat!) Serve warm with Easy Sambal Vermicelli.
Easy Sambal Vermicelli
200 g (about 1/2 package) dried Chinese Rice Vermicelli noodles
2 Tsp Vegetable Oil
1/4 C Low Sodium Soy Sauce
2 Tsp Sugar
3 Tsp Sambal Oelek (use more if you like it spicy)
1 Tsp Sesame Oil
1 Tbsp toasted Sesame Seeds
1/3 C finely sliced Green Onions
In a large bowl, place dried vermicelli and pour over enough boiling water just to cover. (Push noodles down slightly with tongs as needed.) Let stand 1-2 minutes, then drain well and rinse with plenty of cold water. Drain again and spread now cooked noodles on a clean tray. Toss lightly with vegetable oil to prevent sticking.
Meanwhile in a large bowl, combine remaining ingredients, stirring well to dissolve sugar. Add back cooled, cooked noodles and toss to evenly coat noodles with the delicious dressing. Serve with Allspice Pork Chops.