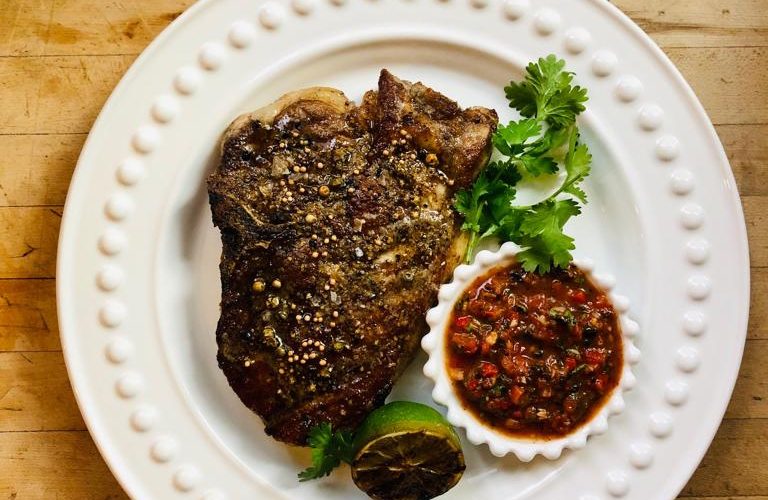 Brined Porterhouse Pork Chop & Fire Roasted Salsa
Prep Time: 2.5 hrs
Cook Time: 30 mins
Yield: 4 servings
4 Porterhouse Pork Chops, 1" thick
Brine & Dry Rub
1/2 C Kosher Salt
4 C Water
1 Bay Leaf
2 fresh Garlic Cloves
1 fresh Lime, peeled and juiced
1 Tbsp Green Peppercorns, divided
1 Tbsp Black Peppercorns, divided
1 Tbsp White Peppercorns, divided
1 Tbsp Brown Mustard Seed
1 Tbsp Yellow Mustard Seed
1 Tbsp Maple Sugar
Fire Roasted Salsa / Yields 2 Cups
10 Campari Tomatoes
4 Kaboom Black Jalapeño Peppers, stems trimmed
2 Sweet Twister Peppers, stems trimmed
10 Shishito Peppers, stems trimmed
1/4 C Vegetable Oil
4 Limes, cut in half width-wise
1/4 C Extra Virgin Olive Oil
4 fresh Garlic Cloves
1/2 C fresh Cilantro
2 Tsp Kosher Salt
flaked Sea Salt for finishing
Prepare brine.  Bring water to a boil.  Add salt and stir until dissolved.  Add bay leaf, 1 teaspoon each type of peppercorns and 2 garlic cloves, lightly crushed.  Add the lime juice and peel.  Stir well and remove from heat.  Set aside and cool to room temperature.
In a container large enough to fit the meat, place all 4 pork chops in and pour the brine over making sure the meat is completely submerged.  Cover with a tight fitting lid and refrigerate for 2 hrs.
To make the dry rub, you can use a spice grinder or a mortar and pestle to crush remaining peppercorns, both types of mustard seed and maple sugar.  Set aside.
While meat is brining, preheat grill to high heat.  Lightly toss all vegetables in vegetable oil and grill until charred but still firm enough to hold their shape.  Remove from heat and set aside.
Grill limes, cut side down for about a minute then remove from heat.  Reserve 4 halves to use as garnish.
Place all charred vegetables in a food processor, juice from half the grilled limes and pulse to a chunky salsa consistency.  Add olive oil, fresh garlic and fresh cilantro.  Pulse a few more times to puree garlic and chop herb.  Transfer salsa to a bowl and season with salt and pepper to taste.  Set aside at room temperature until ready to use.
After 2 hours in the fridge, remove pork chops from brine and pat dry.  Season well with dry rub and grill on medium heat for about 5-7 minutes on each side, depending on thickness, until internal temperature reaches 145°F.  Remove from grill.  Let meat stand for 5 minutes.
Finish with flaked sea salt, serve with a side of fire roasted salsa and garnish with cilantro  leaves and half a grilled lime.