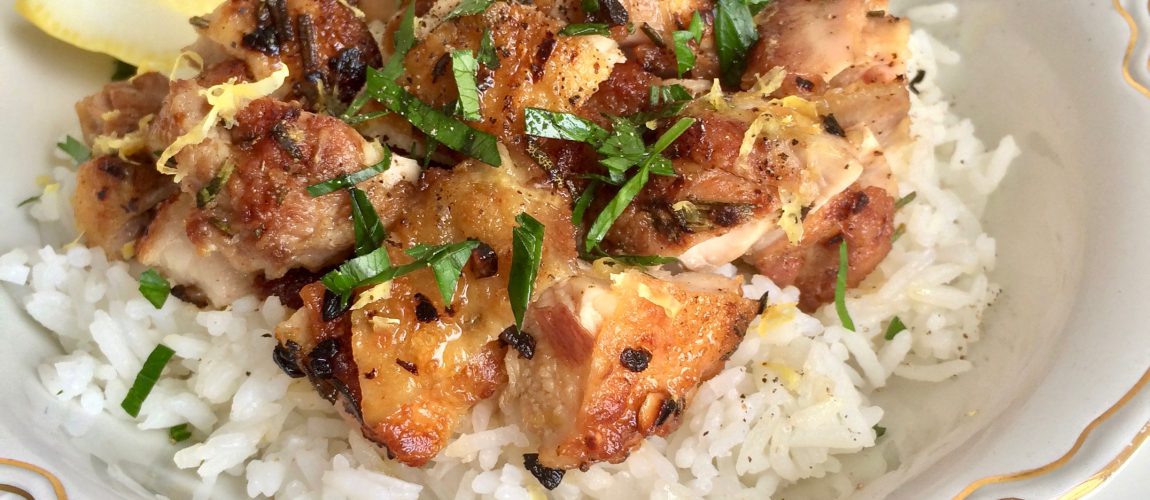 Chopped Grilled Chicken Thigh
Beer Glaze
1 C Beer (a light flavoured lager or ale is ideal)
1/4 C Brown Sugar
1/4 C chopped Cooking Onion
1/2 Tsp Kosher Salt
In a small pot over medium high heat, combine all ingredients. Bring to a simmer and reduce liquid by half, stirring, until light glaze forms, about 10 minutes. Set aside.
Grilled Chicken Thighs
4 pieces boneless, skin on Chicken Thighs (about 1.5 lbs)
1/4 C Olive Oil
1 Tbsp chopped Fresh Rosemary
1 Tbsp chopped Fresh Garlic
1/2 Tsp freshly ground Black Peppercorns
2 Tsp Lemon Zest
1 Tbsp Lemon Juice
Additional Kosher Salt and freshly ground Black Peppercorns to taste
Serve with: Cooked rice, lemon zest, chopped chives and parsley
(Optional tip, but recommended for even cooking.) Line a cutting board with parchment paper or plastic wrap. Unfold chicken thighs and lay in a single layer on top of parchment, place a second piece of paper on top. With a heavy pot, or rolling pin, or mallet, very slightly flatten the meat so that it is an even thickness across. No need to pound it very thin, just a gentle tap down on the fatter ends will do.
In a small bowl, combine olive oil, rosemary, garlic, pepper, lemon zest and juice. Spread marinade over prepared chicken thighs in a shallow dish. Cover and marinate, refrigerated, for at least an hour or overnight.
Preheat a grill to medium high. Just before cooking, season chicken on both sides with a good pinch of salt and grill over medium high heat, skin side down first. Grill until chicken is golden and crispy and cooked all the way through, about 5 minutes per side (165 F internal temperature). When chicken is just about cooked, brush prepared glaze over both sides and continue to grill over medium heat. Remove from heat and let rest at least 5 minutes.
To serve, chop up grilled chicken into bite sized pieces and enjoy over rice. Garnish with lemon zest, chopped chives and parsley.