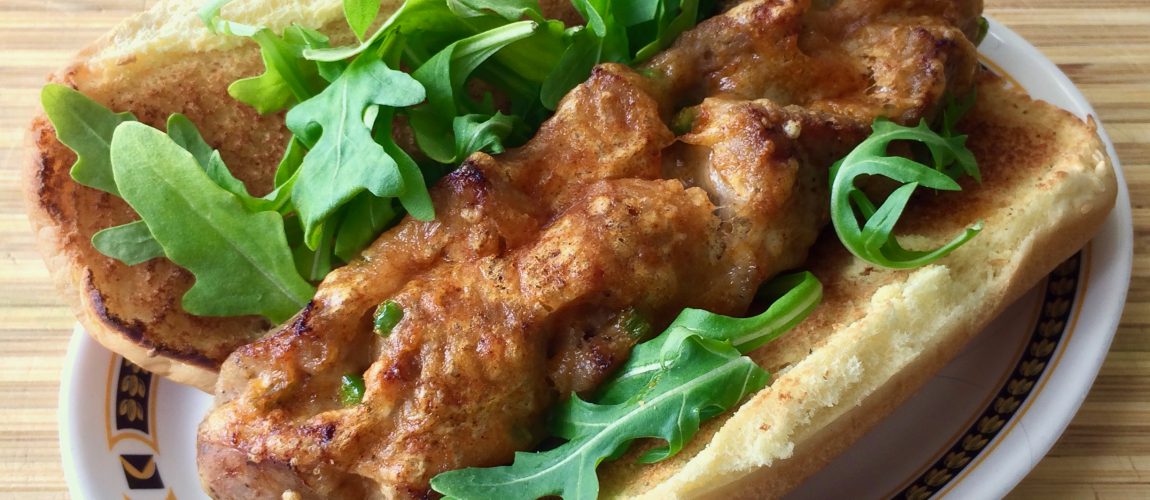 Jumbo Split Sausages
4 large Italian Pork Sausages (about 1.5 lb total)
3/4 C shredded Smoked Cheddar
1/2 Tsp Smoked Paprika
1 Tsp finely chopped Jalapeño
1 Tsp All-Purpose Flour
4 Hot Dog Buns, toasted
2 Tbsp melted Butter
½ C Baby Arugula
Par-cook the sausages. In a large shallow pan, add sausages and just enough cold water to cover. (If you're feeling fancy, you could add beer for some extra oomph here. Your call.) Bring to a gentle simmer for 10 minutes, remove sausages from liquid and set aside. Let cool on a clean foil-lined tray.
Preheat broiler to high and set rack one third from top of oven.
In a small bowl combine smoked cheddar, smoked paprika, jalapeño, and all-purpose flour. Mix well and set aside.
Score cooked sausages in a diagonal cross hatch pattern, about ½ inch deep, without cutting all the way through. The scored marks will spread open slightly as they broil and you want to leave the sausage base intact for best results. Broil on foil-lined tray until surface is golden and hatches open up slightly, about 3-4 minutes. Using kitchen towels, remove the tray from oven and carefully gently press cheese mixture into the pockets you've created in the sausages. (Be careful, as both the tray and the sausages will be hot to the touch.) Broil cheese-stuffed sausages for about two minutes, or until cheese is melted, bubbly and has a few crispy edges.
Served hot on toasted, buttered buns with fresh baby arugula.