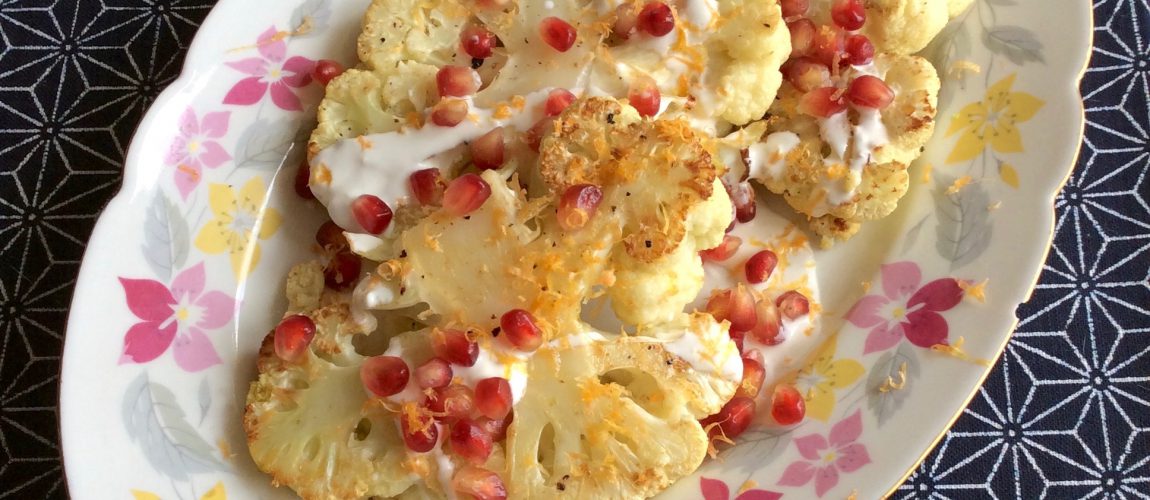 Roast Cauliflower Steak with Honey Yogurt
1 large head Cauliflower
2 Tbsp Olive Oil
1 Tsp ground Cumin
Kosher Salt and freshly ground Black Peppercorns to taste
1/3 C (3% fat) Yogurt
1 Tsp Honey
1/3 C fresh Pomegranate Seeds
2 Tsp fresh Orange Zest
Preheat oven to 400 degrees F. Line a baking sheet with parchment paper.
To slice cauliflower into even "steaks", use a long serrated bread knife to first trim the bottom so it stands firm and flat on a cutting board. To start, slice cauliflower from top to bottom stem in half, then cut from original center slice outward about 1 to 1 1/2 inches to create a thick flat "steak". Trim the outer rounded part on the second cut – you'll end up with two larger pieces, and two smaller pieces. Keep any extra crumbly bits; they'll cook alongside the larger slices.
Gently brush or rub olive oil evenly over the cauliflower and season on all sides with cumin, and a generous amount of salt and pepper, place on prepared tray. Roast on first side for 15 minutes, then carefully remove tray from oven. Using tongs, flip steaks over to other side and roast additional 10 minutes. Cauliflower will be nicely golden on the edges, and just cooked through (but not overly soft). Remove from oven, and transfer to final serving platter and let cool slightly.
In a small bowl, mix together yogurt and honey. Drizzle over cauliflower steaks, and finish off with fresh orange zest and a sprinkling of pomegranate seeds. Serve as a side dish to accompany the Herb Chicken with Coconut Green Peppercorn Sauce.