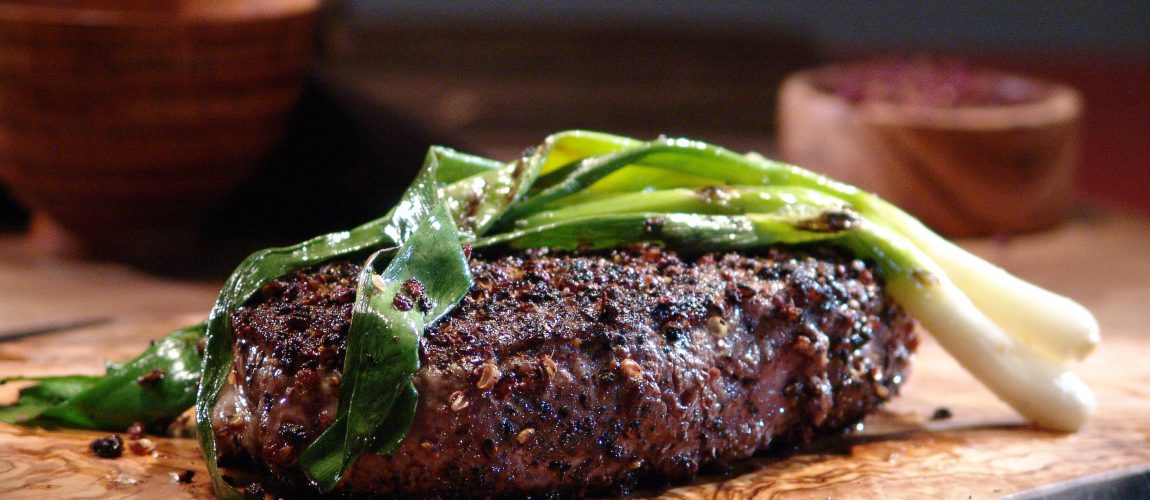 Sichuan Peppercorn Steak with Grilled Green Onions
Sichuan Peppercorn Spice Mix
3 Tbsp Black Peppercorns
3 Tbsp Sichuan Peppercorns
2 Tbsp dried Papaya Seeds, optional
Place the black peppercorns into a mortar and pestle, and grind.  Add in the Sichuan peppercorns and papaya seeds, if using, and grind.  Transfer the spice mix to a container.
Sichuan Peppercorn Crusted Steak
4 (8-oz) Beef Strip Loins, at room temperature
1 Tbsp Vegetable Oil
Kosher Salt
Preheat the oven to 400 degrees.  Heat a cast iron pan or skillet over high heat.  Press the Sichuan peppercorn spice mix into all of the sides of the steaks, coating entirely and ensuring the spices adhere to the meat.  Add the vegetable oil to the cast iron pan and heat.  Season the steaks with salt to taste.  Once the pan is smoking hot, add the steaks. Sear the steaks for 2 minutes or until golden.  Do not move.  Turn the steaks over and transfer the pan to the preheated oven for 5 minutes or until desired degree of doneness.  Remove the pan from the oven, turn over the steaks and set them aside.  Before serving, allow the meat to rest for 10 minutes so the juices redistribute.
Grilled Green Onions
2 bunches Green Onions, roots removed

 

1 Tbsp Vegetable Oil, plus more for greasing the grill grate
Kosher Salt

 

freshly ground Black Peppercorns
Heat a grill over medium-high heat, and lightly grease the grates with oil.  Toss the green onions in the vegetable oil, and season them with salt and pepper to taste.  Grill the green onions for 1 minute.  Flip the onions over, and continue cooking for 1 minute or until onions have softened and are slightly charred.