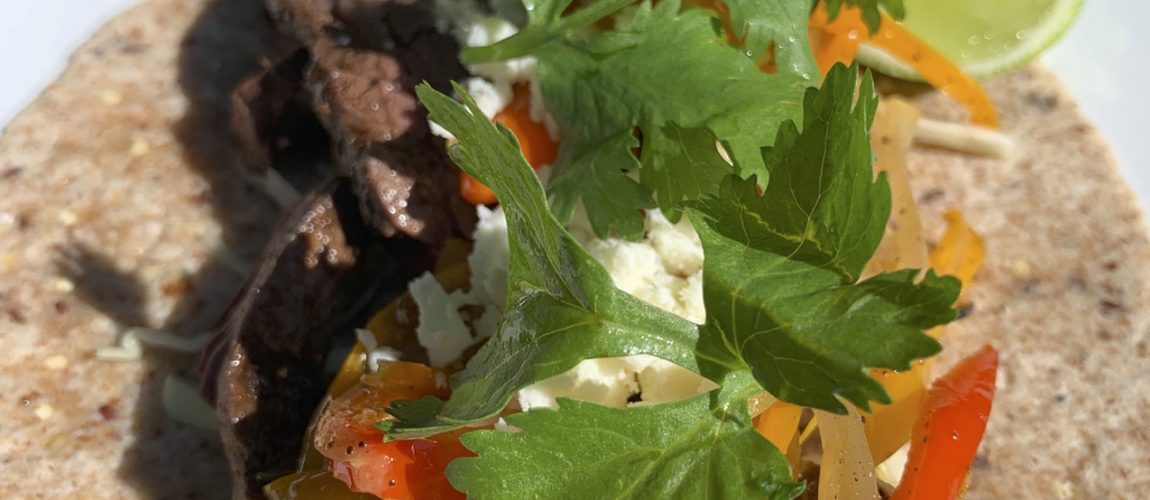 Skirt Steak Tacos
2 lbs trimmed Skirt Steak
2 Tbsp Kosher Salt
1/2 Tsp Paprika
1/2 Tsp ground Cumin
1/2 Tsp ground Coriander
2 Tsp ground Black Peppercorns
2 Tbsp Olive Oil
1 1/2 C sliced White Onion
1 1/2 C sliced One Sweet Peppers
1/2 Tsp grated Garlic
8 x 8" Flour Tortillas
1 C finely shredded Cabbage
1/2 C Cotija or Queso Fresca Cheese
Fresh Cilantro for garnish
8 Lime wedges
Make sure Steak is trimmed to remove silverskin and excess surface fat.  
Heat your grill to medium high heat.  While heating grill, season both sides of the streak with kosher salt.  Combine paprika, cumin, coriander and black pepper in a bowl and mix well.  Season all the steak with the spice mix on all sides.  Place meat on grill and cook to desired doneness.  Remove and allow to rest, tented with foil.   Once meat is rested, slice and keep warm. 
Heat a cast iron pan large enough for the peppers and onions to medium high heat.  Once heated, add olive oil and peppers.  Cook for a couple minutes to allow the peppers to just start browning, then add onions and grated garlic.  Toss the contents of the pan and cook till the onions soften without burning the garlic.  Season with salt and pepper to taste.  Set aside. 
To assemble Tacos, warm up tortilla on the grill quickly.  Place a strip of cabbage on the tortilla, followed by some steak, sautéed peppers, cheese, cilantro and lime wedge.  Before eating make sure to drizzle with fresh lime juice.   I dare you to only eat 2.