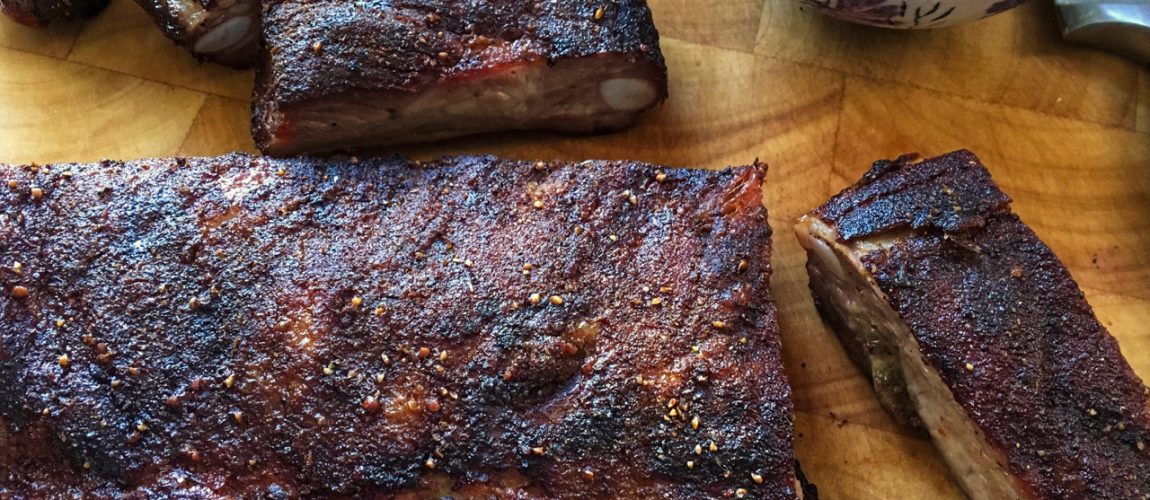 Slow Smoked Ribs in Citrus Mojo Sauce
1 1/2 Tbsp Kosher Salt
1 Tbsp freshly ground Black Peppercorns
2 Tsp Onion Powder
2 Tsp Garlic Powder
2 Tsp Sweet Paprika
2 Tsp Vegetable Oil
1 full rack Pork Side Ribs (about 3.5 lbs/1.5 kg), about 1 1/2″ thick
6 C Wood Smoking Chips (Applewood or Hickory recommended)
In a small bowl, combine salt, pepper, onion and garlic powder, and sweet paprika.
Trim any bits of gristle or hanging fat from the ribs. Pat dry with a paper towel. Lightly
coat ribs all over with vegetable oil. Evenly coat ribs all over with spice rub, patting
down firmly to adhere spices to every nook and cranny. Let ribs stand, covered, while
you prepare the bbq.
Soak 2 cups of the wood chips in water for at least 15 minutes. Using heavy duty
aluminum foil, create a large flat pouch and fill with the soaked (and drained) wood chips
and dry chips. Seal the edges and poke a few holes on both sides of your smoking pouch.
Heat your gas bbq to high heat on one side. Place the smoking pouch on the lit side of
the bbq, directly on the grill. Cover and wait until you see smoke coming out of the grill.
Turn heat down to medium low; open the cover and quickly place the ribs on the grate
over the burner not in use. Cook using this indirect heat method, maintaining a
temperature of 250º F for a total cook time of about 4 – 4 3/4 hours, depending on the
weight and thickness of the ribs. (Try not to open the lid too often to peek, as you'll let
excess heat and smoke escape – if this happens, you may need to turn up the lit burner to
medium for a few minutes to bring the temperature back up.) When ribs are just about
done, turn the lit burner up to medium high heat for 30 mins, helping the outer surface of
the ribs form a nice rich crust. Ribs are done when they are dark brown, tender but with
still a bit of give, and meat starts to shrink slightly away from the bones.
Let ribs rest at least 10 minutes before slicing. Serve warm with a side of Citrus Mojo
Sauce.
Citrus Mojo Sauce
1/2 C Olive Oil
1/4 C finely chopped Garlic (about 10-12 cloves)
1 Tsp ground Cumin
2 Tbsp chopped fresh Oregano
1/2 C freshly squeezed Orange Juice
1/2 C freshly squeezed Lime Juice
1 Tsp Kosher Salt
In a small pot, combine olive oil, chopped garlic, cumin and 1 tbsp chopped oregano.
Bring up to a low sizzle over medium heat, stirring, for about 2-3 minutes, just until
garlic is softened slightly. Take your now aromatic oil off the heat and let cool down to
room temperature. Stir in fresh juices, reserved 1 tbsp chopped oregano and season with
salt. Set aside until ready to use.