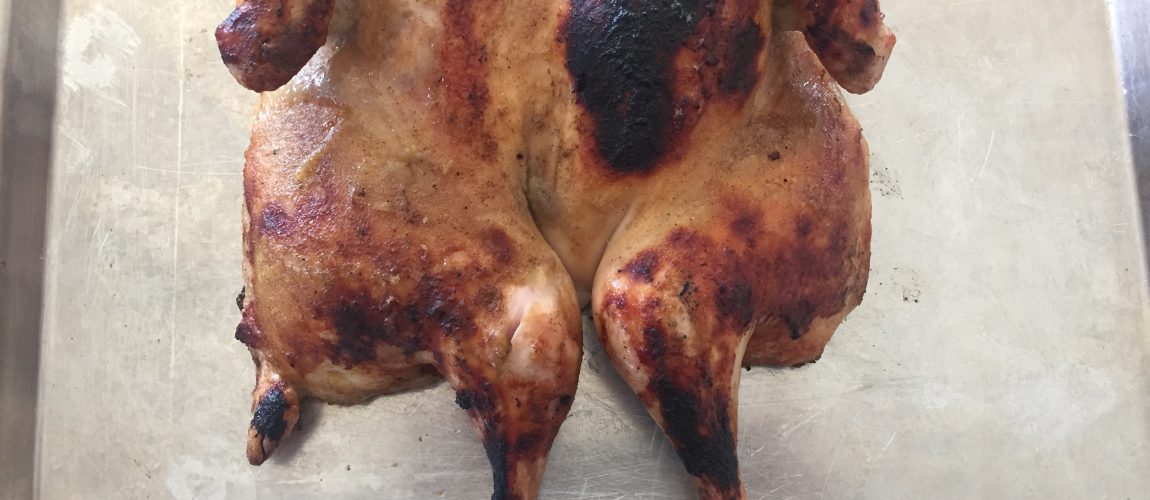 White BBQ Sauce Grilled Chicken
1 C Organic Pear baby food
1/2 C plus 1 Tbsp White Balsamic Vinegar
1/4 Tsp + 1 Tbsp Kosher Salt
1 Tbsp Honey
3 Jalapeños cut into 1/4's
1 x 5 lb Whole Chicken
1/4 Tsp White Pepper
1/4 Tsp Amchur (dried ground Mango Powder)
Place pear puree, white balsamic and 1/4 Tsp of salt in a pot over medium heat and reduce to 1/2 of original volume. Add honey and stir till dissolved fully. While still simmering place cut jalapeños into the pot and remove from the heat, cover and allow to come to room temperature. Once cool reserve half of the bbq sauce for table side service for anyone that wants extra bbq sauce.
Preheat one side of a bbq to medium heat, around 350 degrees Fahrenheit.
On a clean dry cutting board, cut the chicken along the back bone and splay it open flat by pressing on the breast bone, make sure the chicken is as flattened with the skin side up. Season the chicken evenly on both sides with 1 Tbsp salt, white pepper and amchur.
Place chicken over indirect heat, skin side up, and cover barbecue for 30 minutes. Flip chicken and allow to cook for another 15 minutes. Reduce heat to low and flip chicken skin side up and place over direct heat, cook for 15 more minutes.
Using a basting brush, put an even layer of white bbq sauce on the skin side of chicken and cook for 5 minutes. Flip chicken and brush the skin side of chicken with white bbq sauce, cook for 5 minutes and repeat two more times. Finish with the skin side up until chicken is fully cooked.
Remove chicken from grill and rest, tented, for 8 minutes before serving. Cut up chicken into pieces and serve with reserved White BBQ Sauce.