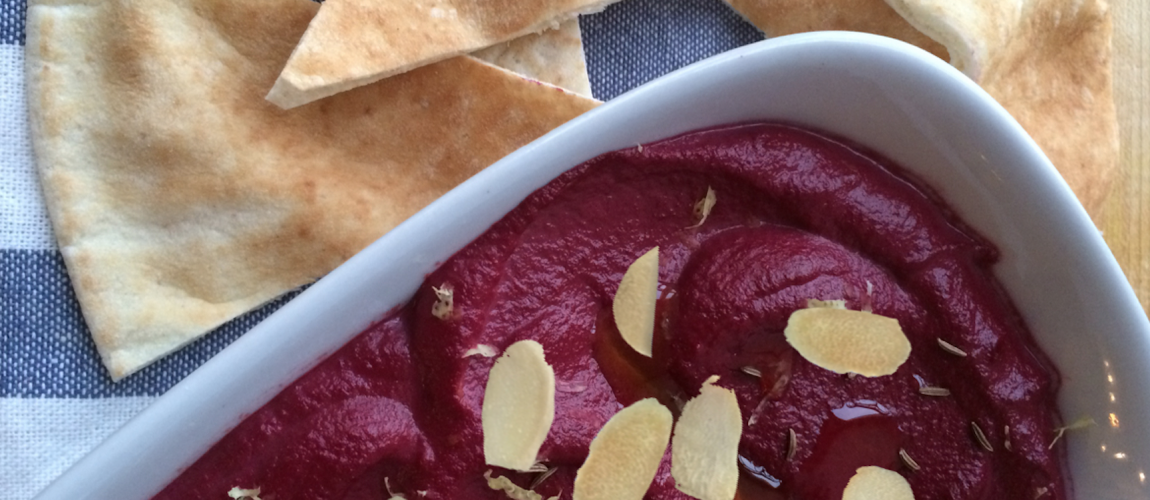 Beet Hummus
Beet Hummus
3 cups trimmed, peeled, and roughly diced Red Beets
1/3 cup (80 mL) olive oil
1 1/2 cups (375 mL) toasted sliced almonds
1 clove garlic
1/3 cup (80 mL) olive oil
1/2 tsp (2 mL) ground cumin
1 tbsp (15 mL) lemon juice
1/2 tsp (2 mL) salt
For garnish
1/4 tsp (1 mL) toasted cumin seed
1/2 tsp (2 mL) lemon zest
1 tbsp (15 mL) olive oil
1 tbsp (15 mL) toasted sliced almonds for garnish
Add diced beets and first amount of olive oil to blender.  Using plunger attachment, pulse and blend on medium low to start pureeing mixture.  Remove plunger, cover with lid and increase speed to high.  Blend on high for 7 minutes, until beets are just cooked through.  With blender off, carefully remove lid (mixture will be hot) and scrape beet mixture down and off lid.
Add almonds, garlic, remaining amount of olive oil, ground cumin, lemon juice and salt.  Blend on high until mixture is smooth and creamy, about 1 minute.
Let mixture cool.  Place into serving bowl, and garnish with toasted whole cumin seeds, lemon zest, olive oil and additional toasted sliced almonds.  Serve with pita chips.