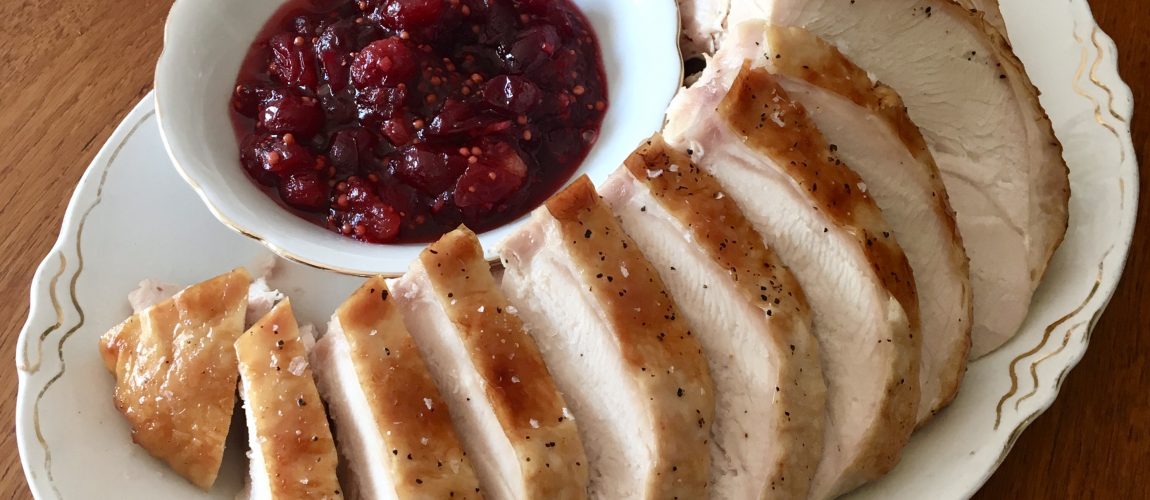 Brined Turkey Breast
Prep Time: 30 mins for brine, plus overnight in refrigerator
Cook Time: 1 hour + 20 mins, plus 20 mins rest
Yield: 6 main course servings (plus a bit for sandwiches the next day)
(5 1/2 – 6 lb) Whole Turkey Breast, skin on, boneless
Turkey Brine, recipe below
3 Tbsp Olive Oil
Maldon Salt & Freshly Ground Black Peppercorn to taste
Place turkey breast in the room temperature brine and refrigerate, covered overnight (about 8-12 hours is ideal). 
Preheat oven to 350°F.
Have a large baking sheet or roasting pan ready with a rack.  Remove turkey from brine (discarding brine) and place breast skin side up on the rack.  Pat turkey dry with paper towel.  Coat skin evenly with olive oil and season skin with salt and pepper.
Roast until turkey is golden brown and thermometer reads 160°F in the thickest part of the breast, about 1 hour and 20 mins.  (Check earlier if yours is on the smaller side).  Let turkey rest at least 20 mins, lightly tented with foil, before slicing.
Slice and serve warm with Spiced Cranberry Ginger Sauce.
Turkey Brine
8 C Water
1/2 C Kosher Salt
1/2 C Brown Sugar
3 Bay Leaves
2 Thyme Sprigs
1/2 Tsp Whole Black Peppercorn
1/2 Tsp Whole Fennel Seeds
1/4 Tsp Whole Allspice
5 Whole Cloves
3 large Garlic Cloves
1 Lemon, halved
4 C Ice
In a large pot, combine all ingredients except for ice.  Bring to a boil to allow flavours to steep and salt/sugar to dissolve.  Remove from heat and add ice to help cool mixture down.  Let brine come to room temperature.  (Can be made ahead of time.)