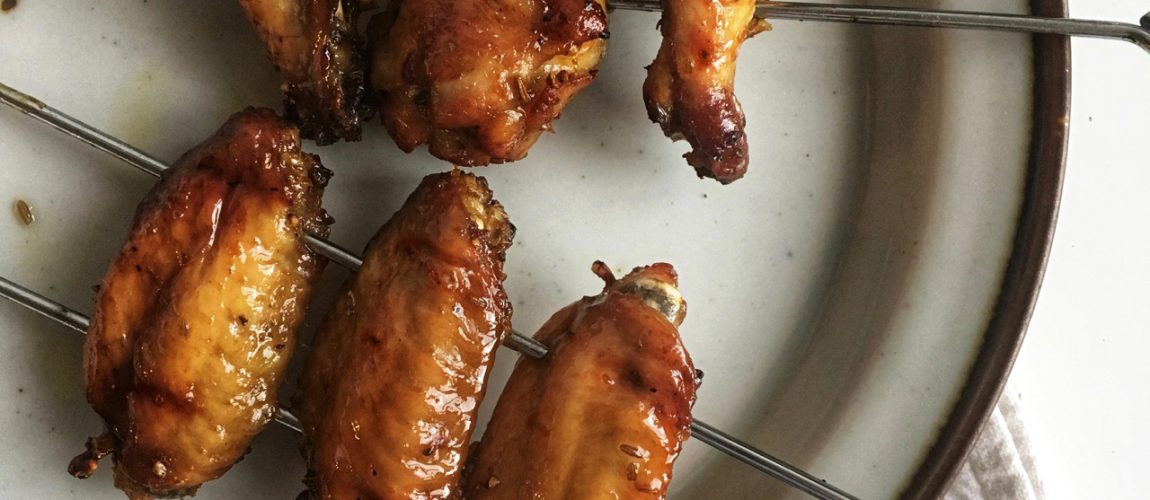 Chicken Wing Skewers
Honey Glaze
1/4 C Honey
1/2 C Water
1/2 C Orange Juice
1/2 Tsp Kosher Salt
Place honey, water and the orange juice in a small pan on medium heat. Cook, stirring occasionally, until the liquid had reduced to maple syrup consistency, about 8 minutes, (the glaze will thicken very slightly as it cools down). Season with salt and set aside.
Wings
1 Kg/2.2 Lb Chicken Wings (about 12 wings)
1 Tsp ground Fennel Seeds
2 Tsp fresh Orange Zest
1 Tbsp Vegetable Oil
1 Tsp Kosher Salt
1/2 Tsp freshly ground White Peppercorns
Additional equipment: 8 (10-inch) steel skewers
Preheat your grill (propane, charcoal or wood fired) to medium high heat.
Remove wing tips from the chicken wings for another use, or freeze to make a stock. Cut wings in half at the joint to separate the drums and the flat. Mix fennel seeds, orange zest, vegetable oil, salt and pepper and toss the drums and flats in this mixture to coat well.
Separate the drums and flats. First skewer flats, using 2 steel skewers, one on each end of the flat placed lengthwise. You should be able to fit 6 flats per pair of skewers. Now skewer drums only with 2 skewers, one on each side of each drum. For even cooking, alternate the placement of meatier end as you add on each piece (see image above for an example). You should be able to fit 6 drums per pair of skewers. After skewering assembly, you will have a total of 2 lines of flats and 2 lines of drums ready for grilling.
Transfer wings onto the grill over direct heat and grill for 7-8 minutes per side on medium high heat. Remember the metal skewers will be hot; use sturdy tea towels or long tongs to help with flipping.
Turn heat down to medium. At this point (wings will be about 3/4 done), brush the top side of the wings with honey glaze. Grill for 9-10 minutes, then flip onto the other side and glaze again. Grill for another 9-10 minutes. Remove from heat and let rest for 5 minutes; the glaze will still be very hot. Serve warm.