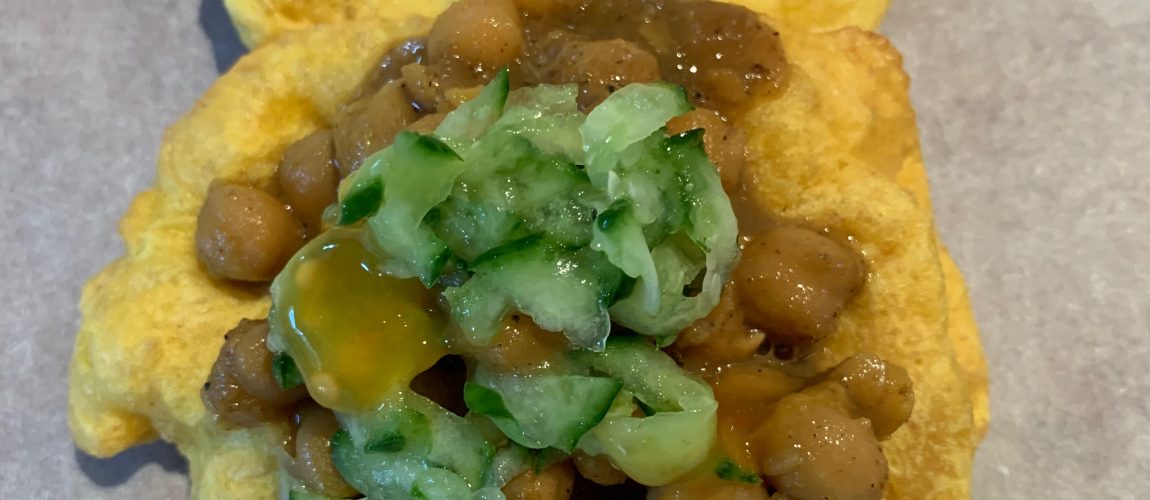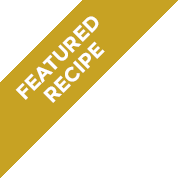 Doubles
Yield: 6 Doubles
Bara (Doubles Bread)
1 C Water
1 Tsp Dried Yeast
1/4 Tsp Sugar
1 1/2 C AP Flour
1/2 C Chickpea Flour
1/2 Tsp Sea Salt
1/4 Tsp ground Cumin
1/4 Tsp ground Coriander
1/2 Tsp ground Turmeric
Vegetable or Peanut Oil for deep frying
Place water, yeast and sugar in a clean bowl and allow the yeast to bloom.  
In a separate bowl add remaining ingredients and whisk till evenly combined.  Once yeast is bloomed add the wet to the dry and gently mix by hand until it makes a very soft, wet dough with all ingredients evenly combined.  Cover the bowl of dough with a plate and allow to rest in a warm place till it doubles, approximately an hour.  Move on to the Curry Chickpeas recipe below.  
Bring a large cast iron pan, half filled with oil, to medium heat.  Prepare a large tray with ample paper towels for draining.  Fill a bowl with clean cold water and start making Bara.  
Wet the palms of your hands in the bowl of water and pinch off a mandarin orange sized ball of dough.  Spread the dough between your fingers and across your palm until you have a flat disk about the size of your palm, wet hands as necessary so that dough does not stick.  Place the disk in hot oil and fry till it puffs, flip and fry few more seconds.  Drain on paper towel tray; total cook time should be no more than 1 minute.  Repeat for all Bara. 
Curry Chickpeas
1 1/2 Tbsp Vegetable Oil
1 C diced White Onion
3 cloves chopped fresh Garlic
1/8 Tsp dried Cumin Seeds
4 fresh Curry Leaves (optional)
1 Tbsp Curry Powder
3 C rinsed and drained canned Chickpeas
2 C Chicken or Vegetable Stock
1 intact fresh Bird Pepper (Thai Chili)
Sea Salt to taste
freshly ground Black Peppercorns to taste
Heat a medium sized pot to medium high and add oil followed by onions.  Allow onions to brown to a dark deep brown without burning.  Add garlic, cumin seeds, curry leaves, curry powder and cook till fragrant.  Add chickpeas and stock along with bird pepper that is still intact with stem (this is for flavour more than heat), allow to simmer with lid cracked for 30 – 45 minutes or until liquid has reduced by half.  Using the back of a pot spoon, crush 1/3 of the chickpeas to help thicken the sauce slightly.  Season with salt and pepper and keep warm.  
Tamarind Sauce
1/2 Tsp dried Coriander Seeds
1/4 Cinnamon Stick, about 1 1/2 inch
1 package Tamarind Paste, 400 g
1 C canned Coconut Milk
juice of 1 Grapefruit
3/4 C Water
1/4 C Sugar
1/4 Tsp crushed fresh Ginger
Sea Salt to taste
Place coriander seeds and cinnamon stick in saucepan and toast over medium heat for 1 minute.  Add tamarind, coconut milk, grapefruit juice, water, sugar, ginger, making sure to break up the tamarind with a spoon.  Bring the ingredients to a boil, and then reduce the heat to a simmer until the sauce has thickened, about 15 to 20 minutes.  Strain the sauce into a bowl and adjust the seasoning with salt to taste.
Salted Cucumber
1/4 C grated Cucumber
1/4 Tsp Sea Salt
Place both ingredients in a bowl and let sit for 10 minutes.  Drain off excess moisture by squeezing cucumber gently, discard excess juice.  Set aside.  
Assembly
Bara
Curry Chickpeas
Tamarind Sauce
Hot Sauce
Salted Cucumber
6 x Wax Paper cut into 12" x 12" square
Place 2 Bara overlapping on one square of wax paper.  Spoon curried chickpeas into centre of both Bara.  Add a teaspoon of tamarind sauce, hot sauce to your liking and then a couple pinches of salted cucumber.  Wrap and serve hot.