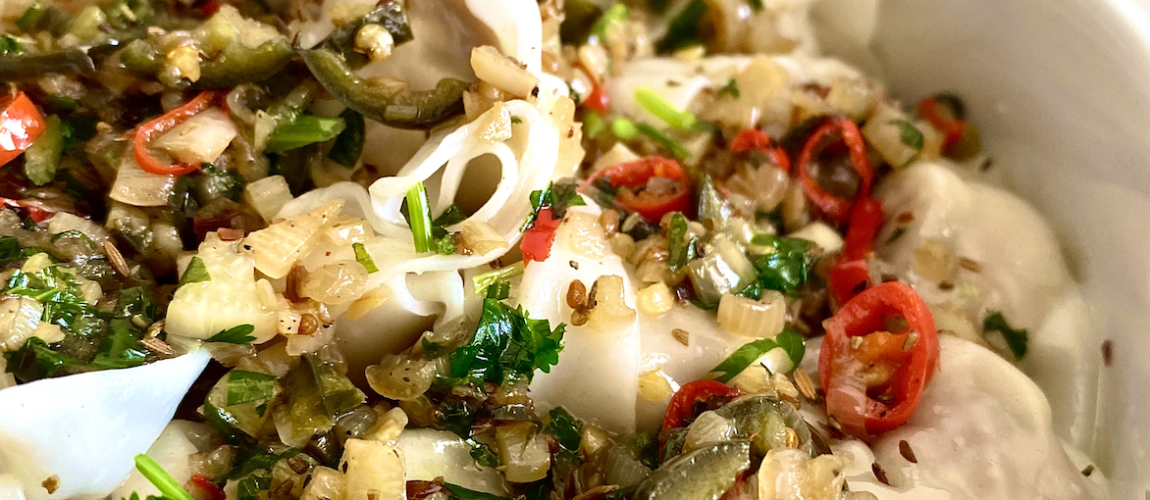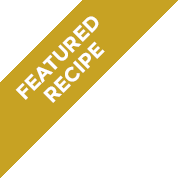 Dumplings & Chili Oil
Dumplings
1 lb ground Pork
1/4 C finely diced Shallots
3/4 Tbsp grated fresh Ginger
1/2 C chopped fresh Cilantro
1 Tbsp Chinese Cooking Wine
3 Tbsp Soya Sauce
2 Tbsp Cornstarch
1 pkg (400 grams) Wonton wraps
Combine all ingredients except wonton wraps in a clean dry bowl.  Cover and refrigerate for 1 hour.  
Setup a station with a parchment lined tray, a very lightly damp kitchen towel, a small spoon, and a small bowl of water.  
Take a single wonton wrap and turn it so it is orientated into a diamond shape with the points of the wrap pointing north, east, south and west.  Place a small dollop of pork mixture in the bottom corner (the south position).  Roll up like a cigar towards the top point (north point) of the wonton skin, leaving a flat triangle at the top.  Dip your finger in the water and place on the right side tail.  Connect the left tail and right tail by folding and use the water as glue to connect them, press firmly to seal.  Place on parchment lined tray with the lightly damp towel covering.  Continue until all the wonton skins and pork filling are done.  Transfer to the fridge and proceed to make the Chili Oil below.  
Chili Oil
3 pieces of Star Anise
1 Tsp dried Anise Seed
1/2 C diced Shallots
1/4 C diced Garlic
1 Tsp Peanut Oil (or Vegetable Oil)
1 Tbsp chopped Red Thai Chili
1/2 C halved and sliced Jalapeno
1 Tsp dried Chili Flakes
1 C Peanut Oil (or Vegetable Oil)
2 Tbsp chopped fresh Cilantro
Place both anise, shallots, garlic, and 1 tsp oil in a medium sized pot.  Place on the stove top over medium heat and saute till the shallots turn translucent and not browned, roughly 5 minutes.  Add all the chilis and rest of oil and bring to a simmer, then immediately turn off the heat.  Remove from heat and allow to cool to room temperature.  Add cilantro and mix well.  Remove the pieces of star anise and discard.  
Putting It Together
1/4 Tsp whole dried Cumin 
Bring a large pot of well salted water to the boil, and gently submerge dumplings into the water.  Reduce to a simmer and cook till the meat is fully cooked, roughly 3 minutes.  Strain boiled dumplings and gently place them on a large flat platter with high sides, discard excess water.  
Spoon the chili oil over the dumplings.  Drizzle some of the oil over the whole platter and sprinkle the cumin.  Serve hot and enjoy.