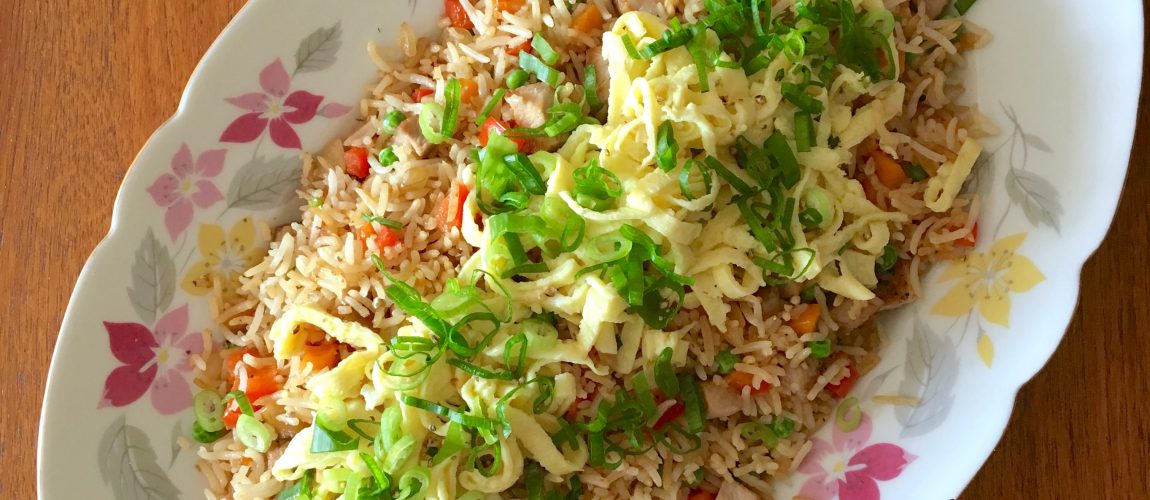 Fantastic Fridge Rice
1 large Egg
3 Tbsp Vegetable Oil
1/3 C diced White Onion
1/4 C diced Carrot
2 Tsp minced Garlic
1 Tsp sliced Green Onion (white part only)
1/2 C diced Red Pepper
3/4 C cubed leftover Pork Chop
2 1/2 C cooked, cold day old, Long Grain White Rice
1/4 C Peas (frozen is fine, thawed)
1 Tbsp Low-Sodium Soy Sauce
1/4 Tsp freshly ground White Peppercorn
For garnish, 2 Tsp slice Green Onion (green part only)
Preheat a large non-stick pan over medium high heat.
In a small bowl, whisk egg and 1 tsp vegetable oil until well combined and slightly frothy. To hot pan, add 2 tsp vegetable oil and swirl to coat pan evenly. Add egg to pan in one swift movement, and let it spread evenly and thinly across the hot surface to form a thin crepe. This will only take a few seconds, so don't walk away! As soon as the egg has begun to set, slide or flip the crepe directly onto a cutting board, using a heat resistant spatula to assist as needed. Let egg crepe cool down slightly while the fried rice is assembled.
Return the non-stick pan back to stovetop, and raise heat to high. Add 2 tbsp vegetable oil to hot pan and add onion and carrot first. Fry, stirring occasionally until onions have taken on a little colour and carrots have softened slightly, about 2 minutes. Next, add minced garlic and the green onion whites and fry another minute, followed by the diced red pepper. After another minute, add the cubed pork chop and stir through, letting the meat brown and slightly crisp up. Add rice and let sit, untouched, for a minute to crisp up the bottom, before stirring. Try to use a folding motion as you stir to avoid breaking up the rice grains too much. Add in peas and soy sauce and fold in to combine everything thoroughly. Season with white pepper, toss till evenly distributed and transfer immediately to serving platter.
To finish, roll the egg crepe into a little cigar, and thinly slice across to form ribbons. Garnish the hot fried rice with the egg ribbons, and sliced green onion tops. Serve right away.