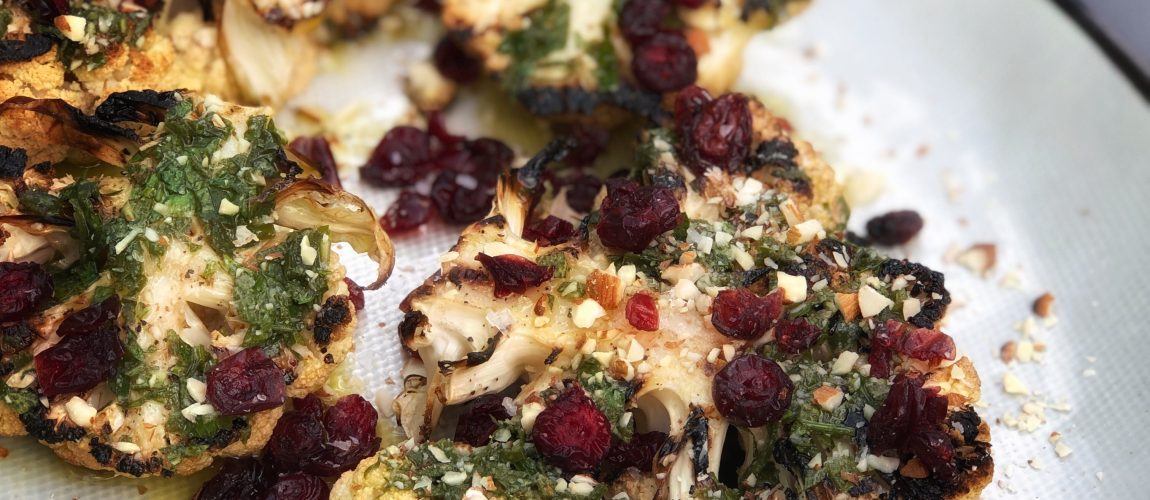 Fire Grilled Cauliflower
1 head of Cauliflower
2 Tbsp finely chopped fresh Sage
2 Tbsp finely chopped Flatleaf Parsley
1 Tbsp finely chopped fresh Basil
1/2 C Extra Virgin Olive Oil
2 Tbsp White Wine Vinegar
2 Tbsp dried Cranberries
3 Tbsp finely chopped Almonds
1/4 Tsp dried Red Chilli Flakes
Vegetable oil for brushing
Kosher Salt for seasoning
Freshly cracked Black Peppercorns for seasoning
Heat grill to medium-high heat.
Cut cauliflower into 4 thick slices about 1 1/2 inches each.  With a brush, coat all flat sides of cauliflower with vegetable oil.  Season both sides with salt and pepper.  Place flat sides of cauliflower on heated grill.
After roughly 10 minutes, or until charred grill marks are visible, flip cauliflower, reduce heat to medium, close the lid and grill until tender and still crunchy, approximately 30 minutes.
While cauliflower is grilling prepare the herb vinaigrette by adding herbs, oil, vinegar in a clean bowl.  Mix vigorously to agitate the herbs to release their oils.  Set aside till its time to serve. 
Once cauliflower is cooked, transfer to a serving tray with clean tongs.  Drizzle vinaigrette liberally onto cauliflower, sprinkle with almonds, dried cranberries and chilli flakes.  
Serve immediately and try to keep this beautiful thing off your IG feed with the most popular vegetarian hashtags ever.