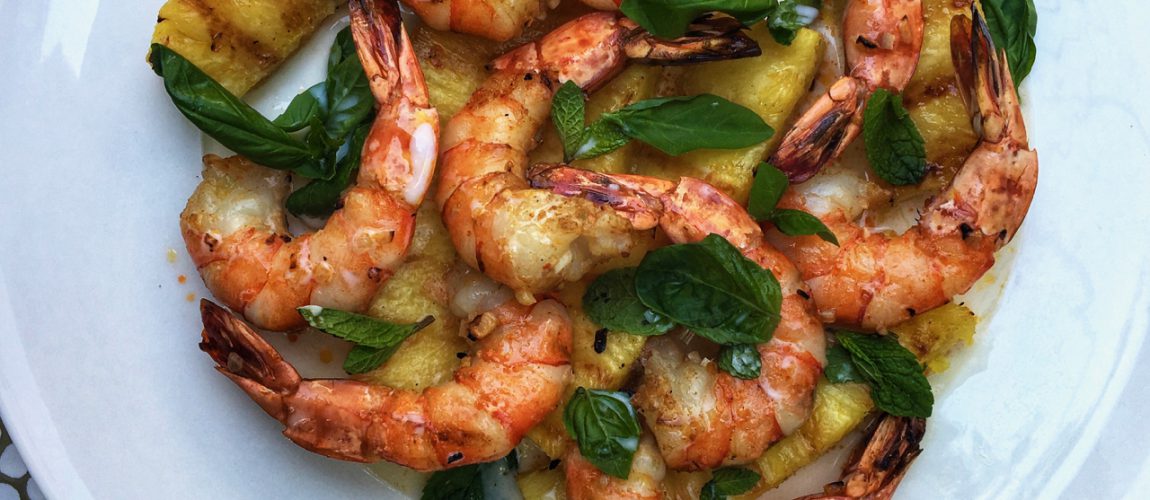 Grilled Pineapple and Shrimp
12 Jumbo Shrimp (16/20 size), peeled, tail-on (about 12 oz)
1 Tsp finely chopped Garlic
1 Tsp finely chopped Shallot
1 Tsp fresh Lemon Zest
1/2 Tsp Ground Coriander
1 Tbsp Olive Oil
1/2 cored Pineapple, sliced into 6 spears
2 Tbsp store bought Chili Oil
1/4 Tsp Kosher Salt
1/4 C Coconut Milk
1 Tsp Honey
Fresh Mint Leaves, for garnish
Fresh Basil Leaves, for garnish
Preheat BBQ to medium high heat.
Pat shrimp dry and place in a medium bowl. Add garlic, shallot, lemon zest, ground coriander, pinch of kosher salt and olive oil, and very gently toss to combine. Let stand for at least 15 minutes, refrigerated, to marinate. Using a pair of metal skewers, thread shrimp on both tail and "head" side, leaving about half inch of space in between each shrimp. You will end up with a total of two sets of skewered shrimp (6 per pair of skewers).
Place pineapple spears on a large plate and drizzle over chili oil. Gently flip the spears around to thinly and evenly coat the pineapple all over with the oil.
Place the seasoned pineapple spears directly on the grill, cooking about 3-4 minutes per side (without moving the spears too much) to get nicely caramelized grill marks. Transfer to a large serving platter and finish seasoning with a touch of salt.
Place skewered shrimp onto grill and cook over direct heat until they appear pink and just firm at the thickest part, about 2-3 minutes per side (they will continue to cook slightly as they cool, so try not to leave them on the grill too long!). Remove from heat and carefully remove shrimp from hot skewers. Arrange shrimp over the grilled pineapple.
In a small bowl, mix the coconut milk and honey until the honey is fully dissolved into coconut milk. Drizzle the mixture over and around the shrimp and pineapple. Garnish with fresh mint and basil leaves and serve right away.