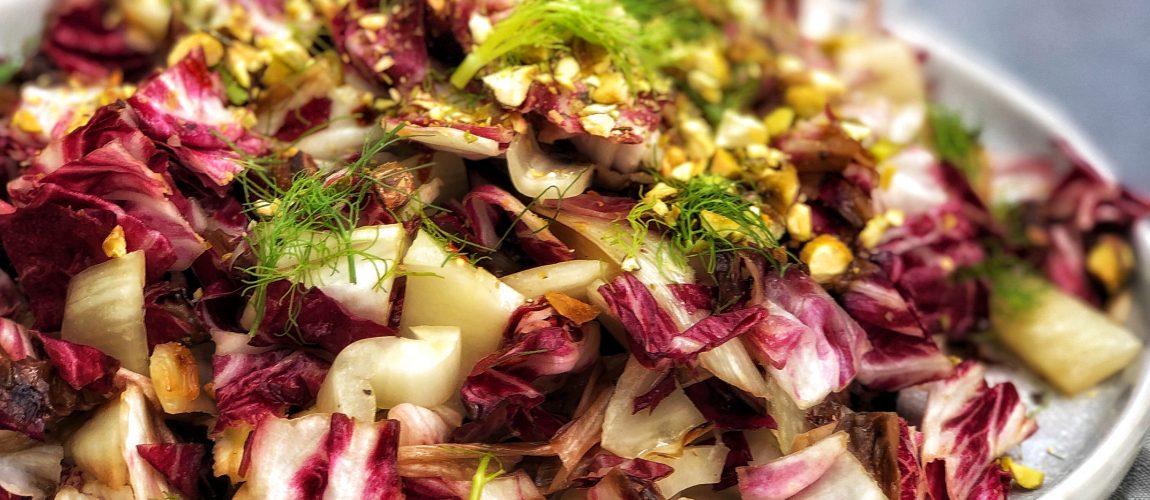 Grilled Radicchio and Fennel Salad
1 large bulb fresh Fennel
1 large head fresh Radicchio
1/4 C freshly squeezed Orange Juice
2 Tsp Honey
1/4 Tsp dried Red Chilli Flakes
2 Tbsp Extra Virgin Olive Oil
1 1/2 Tbsp finely chopped Pistachios
Vegetable oil for brushing
Kosher Salt to taste
Freshly cracked Black Peppercorns to taste
Heat grill to medium-high heat.
Remove fennel fronds (the green leafy part at the top) and save for later.
Cut radicchio and fennel in half lengthwise ensuring that it all stays intact with the stem.  Using a brush, coat flat side of radicchio and fennel with vegetable oil.  Season flat side with salt and pepper.
Place radicchio and fennel flat side down on the heated grill.
While the vegetables are grilling prepare the vinaigrette by putting the orange juice, honey, chilli flakes, and olive oil in a clean bowl whisk together until thoroughly combined.  Season with salt and pepper to taste.  
After roughly 5-6 minutes, take the radicchio of the grill and transfer to a tray, but leave the fennel on.  The radicchio should be slightly charred and wilting on the flat side.   
After roughly 7 minutes total cook time, remove the fennel from the grill and add to tray.
Carefully remove the hardest stem part of both the radicchio and fennel by using the point of a sharp knife to notch out the core, removing as little of it as possible.  Chop the radicchio and fennel into a medium dice.  Toss all the chopped vegetables onto a flat tray and toss with the orange honey vinaigrette.
Transfer the dressed vegetables to a serving platter and garnish with chopped pistachio and lightly chopped fennel fronds.   This is great just warm off the grill or at room temperature.