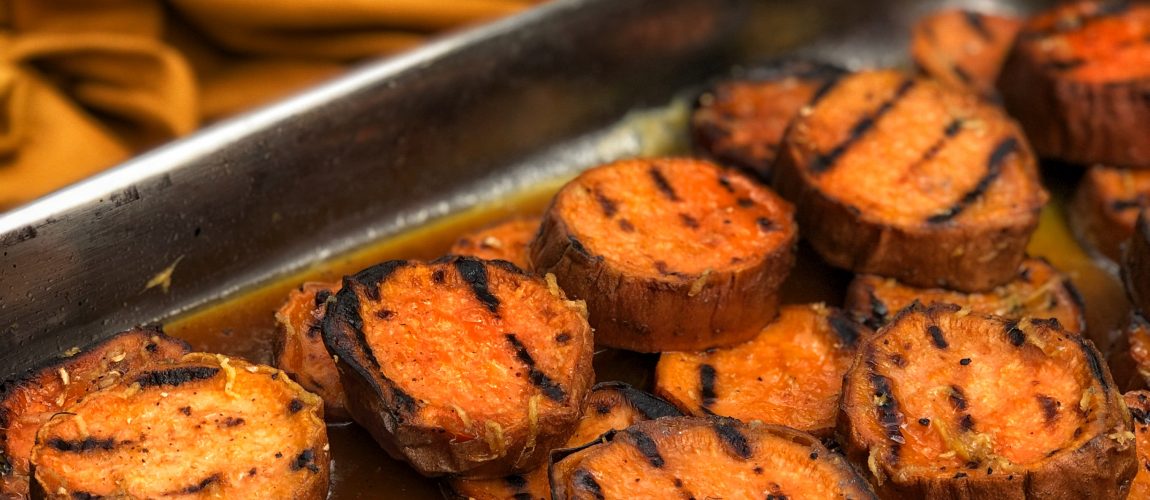 Grilled Candied Sweet Potatoes
4 large Sweet Potatoes (roughly 4 1/2 pounds)
Freshly cracked Black Peppercorns for seasoning
1 C Orange Juice
1 Tbsp freshly grated Ginger
1 C lightly packed Brown Sugar
1 stick Unsalted Butter, cut into small pats
Vegetable Oil for brushing
Kosher Salt for seasoning
Freshly cracked Black Peppercorns for seasoning 
Heat grill to medium heat.
Wash, dry then slice sweet potato into rounds of about 3/4 inch thick.  Using a brush, coat all flat sides of the sweet potato with vegetable oil.  Flip cauliflower gently so that it remains intact.  Season both sides with salt and pepper.
Place sweet potato on heated grill.  After roughly 5 minutes, or until charred grill marks are clearly visible, flip and grill another five minutes.
While sweet potato is grilling prepare the glaze by mixing orange juice and ginger in a clean bowl.  
Once sweet potato is grilled on both sides, transfer to a 13" x 9" oven safe dish.  Place as many grilled sweet potatoes that will fill the pan in a single layer.  Spoon half of the orange ginger mix over the sweet potato, followed by half the pats of butter and half the brown sugar.
Place remaining grilled sweet potato over the first layer, spoon the rest of the ginger mixture over the second layer, followed by the rest of the pats of butter, then the remaining sugar.  Cover the dish tightly with aluminium foil, place on grill and close the lid of the bbq, cook for 20 minutes.  
Remove the foil from the pan and let it cook another 20 minutes.
Open the bbq lid and spoon the pan juices on top of the sweet potato until the top of the sweet potato is evenly coated, return to bbq with the lid closed.  Repeat the glazing every 5 minutes a couple of times or until the glaze is reduced to a thick maple syrup-like consistency.
Allow to cool for about 10 minutes and serve, as the hot sticky sugar is very hot.  Enjoy then go for a walk to burn off some of those sugar calories.