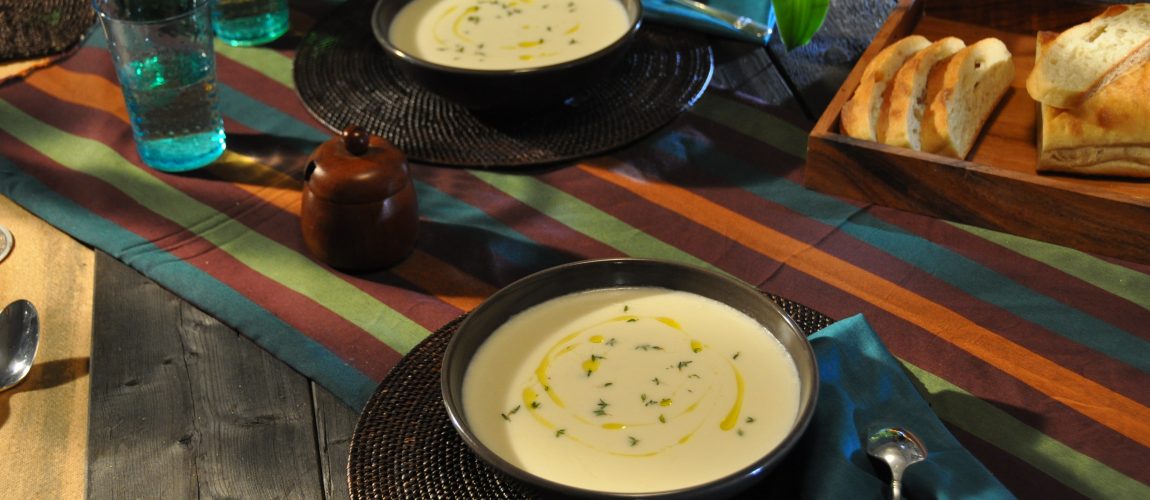 Jerusalem Artichoke Soup
3 Tbsp Olive Oil
1 Onion, diced
1 ½ Lb Jerusalem Artichokes, roughly chopped
½ Potato, quartered
3 sprigs Thyme, tied with string, + 1 sprig, leaves picked for garnish
1 Bay Leaf
7 C Water
½ C 35% Cream
Salt
Olive oil

 for drizzling
Heat 1 tablespoon of the olive oil in a medium pot over medium heat.  Add the onion and sweat until tender and translucent.  Add the Jerusalem artichokes and potato and stir.  Add the thyme, bay leaf and water and continue to stir.  Bring the pot to a boil, then reduce it to a simmer.  Once the Jerusalem artichokes and the potatoes are fork tender, remove the thyme and bay leaf.
Transfer the soup to a blender and puree in batches until smooth.  Strain the soup through a fine mesh sieve into a clean pot, bring to a boil and then reduce to a simmer for 1 minute.  Add the cream and season to taste with salt.  
To serve, pour the soup into bowls and garnish with a drizzle of olive oil and thyme leaves.