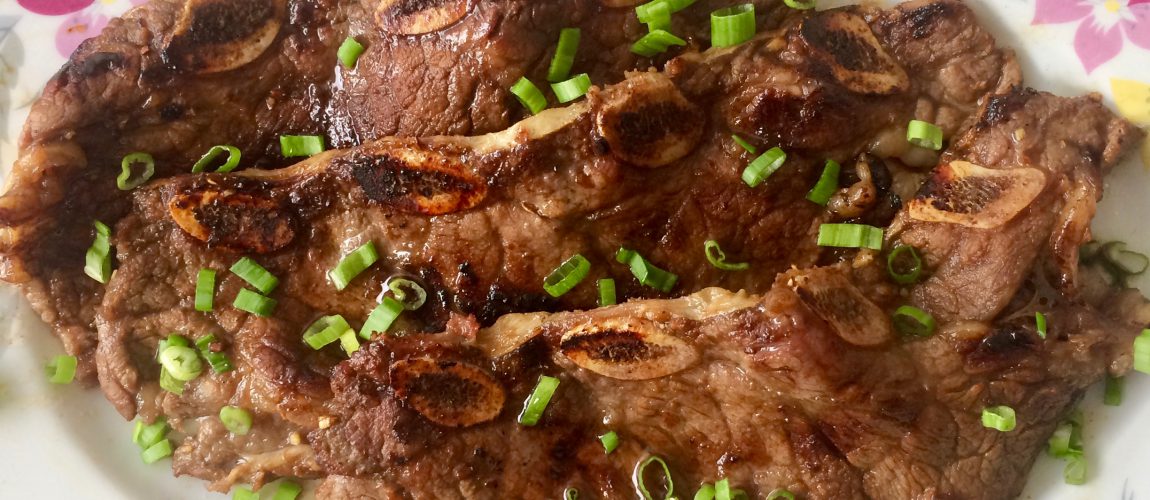 Korean Short Ribs
1 Lb Thin Cut Korean Short Ribs (look for Miami Short Ribs or LA-Style Short Ribs)
1/2 Cup Low Sodium Soy Sauce
1/2 Cup Pineapple Juice
1/4 Cup Honey
2 Tbsp Minced Fresh Garlic
1 Tbsp Grated Fresh Ginger
1 Tbsp Toasted Sesame Oil
2 Red Thai Chilis, whole, smashed with side of knife
3 Tbsp chopped Green Onion bottoms (white parts only)
3 Tbsp chopped Green Onion tops (green parts only), reserved for garnish
In a small bowl, combine soy sauce, pineapple juice, honey, garlic, ginger, sesame oil, chilis and white part of green onions. Pour over short ribs and marinate, refrigerated, for up to two hours. Do not overmarinate, as the ribs will overtenderize and take on an unpleasant mushy texture. 
Preheat a large cast iron grill to medium high. Brushing marinade onto ribs, grill over medium high heat until nicely charred but not overcooked inside, about 2-3 minutes per side. 
Transfer to a service platter and garnish with reserved chopped green onion tops. Serve hot.