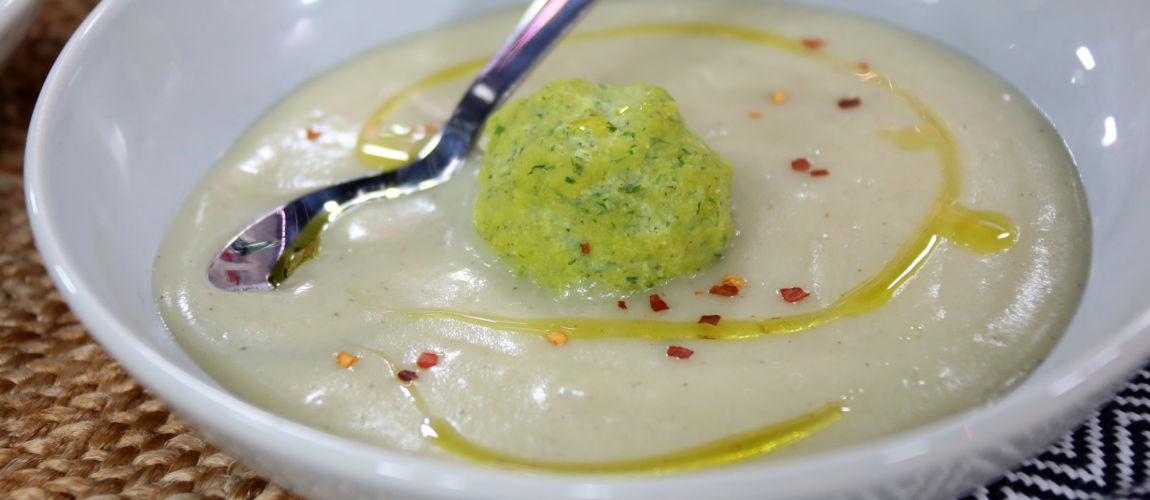 Potato Soup and Chive Dumplings
Chive Dumplings 
1/4 C Ricotta Whole Milk
1 Egg
1/4 Tsp Kosher Salt
1/4 Tsp Black Pepper
1/4 C Yellow Cornmeal
1/4 C chopped fresh Chives
Vegetable Stock to simmer
Combine ricotta in food processor and process until smooth.  Add beaten egg and season with salt and pepper.  Combine with cornmeal until completely smooth.  Transfer to a clean bowl, add chives and mix.  Let rest for 10 minutes and then form into 4 balls of 46 grams per dumpling.
Bring vegetable stock to the simmer and add dumplings just enough to not crowd the pot.  Once they float allow to simmer for 1 more minute, remove with a slotted spoon and set aside.
Reheat for service in a poaching vegetable stock liquid.
Potato Soup
½ Tsp Vegetable Oil
2 C chopped White Onions
2 C diced White Potatoes
3 C Chicken or Vegetable Stock
4 sprigs of fresh Thyme, including stems
Salt and pepper to taste
Sweat onions in vegetable oil until translucent.  Add diced potatoes and sauté for 1 minute.  Add stock and thyme and simmer until potatoes are fully cooked roughly 15 mins.
Remove thyme stems from pot and puree in a blender until smooth.  Season to taste.