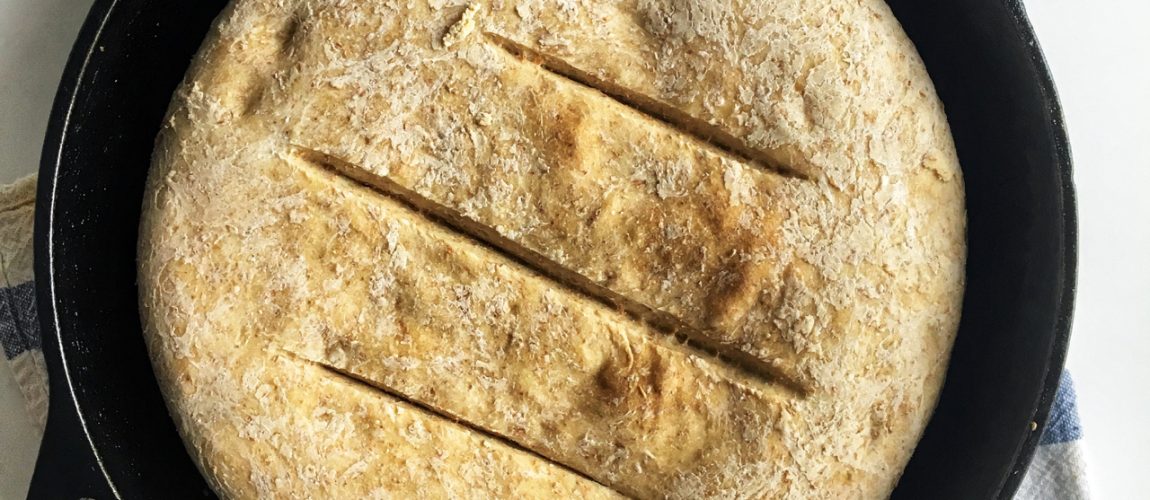 Roast Bake
2 C All Purpose Flour
2 C Whole Wheat Flour
1 Tbsp Baking Powder
3/4 Tsp Kosher Salt
1 Tbsp Sugar
1 Tbsp room temperature Unsalted Butter
1 1/2 C room temperature water, plus additional if needed
Combine all dry ingredients in a clean bowl.  Add butter and rub into the flour mixture between your palms until evenly distributed.  Add water and knead for 4 minutes, form a ball and cover with a tea towel for 15 minutes. 
Preheat oven to 350°F. 
Place rested dough in a 12" cast iron skillet and press down gently until it fills the skillet end to end; it should be a disk shape.  With a sharp knife, slice 3 slits across the top of the dough.  Bake in the middle of the oven for 35-40 minutes or until dough is fully cooked.  
Allow Bake to cool for 5 minutes in pan then transfer to a wire rack to cool to room temperature before eating.