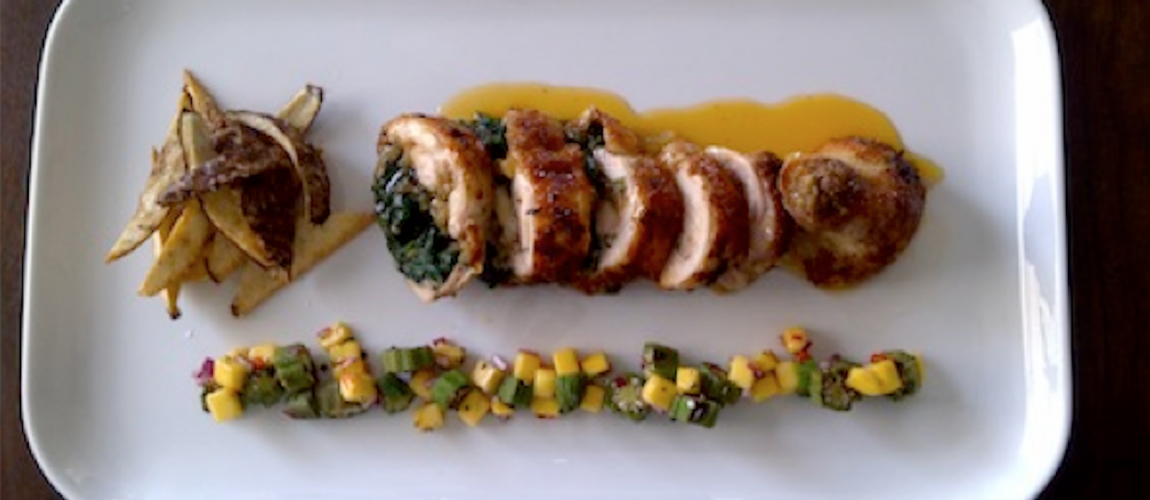 Seared Chicken Ballantine With Grapefruit Allspice Sauce
Seared Chicken Ballantine
1 Tbsp Unsalted Butter
ó Tsp Vegetable Oil
ó White Onion sliced thin
1 bunch Spinach (leaves only)
Salt and Pepper to taste
2 Chicken Thighs (skin on / bone in)
ó C Bread Crumbs
1 Tbsp Vegetable Oil
ó Tsp Unsalted Butter
Preheat oven to 400 degrees F.
In a preheated skillet set on medium heat, add vegetable oil and butter until melted. Add sliced onions
and allow to sauté until golden, stirring often. Reduce heat to low and allow to cook slowly, approximately
20 minutes, making sure to stir often. Increase heat to medium and add spinach until totally wilted and
soft. Season with salt and pepper to taste. Transfer contents of skillet to a small bowl to cool.
Remove bone from chicken thighs and season with salt and pepper. Fill cooled spinach mixture into
empty cavity where chicken bones were. Using a bamboo skewer or toothpicks, thread the opening of the
stuffed chicken thigh so that the filling cannot come out.
In a skillet large enough to fit both stuffed chicken thighs, preheat to medium high heat. Add vegetable oil
and butter then add chicken thighs and allow to brown on three sides, appxoimately 2 minutes each side.
Once three sides are browned, flip onto remaining raw side and place skillet in oven for an additional 20
minutes or until chicken is fully cooked. Remove from oven and tent on a plate or cutting board for 10
minutes before serving to allow the meat to rest and retain its juices.
Grapefruit Ginger Sauce
1 thumb of Ginger sliced
1 Grapefruit (juice of)
1 Lime (juice of)
2 piece Allspice cracked
1 Bay Leaf
1 Tbsp White Sugar
Place all ingredients in a small saucepot and allow to boil until reduced by 1/3rd of its original volume.
Lower the temperature to simmer until the liquid coasts the back of a spoon. Strain while hot and
discard all solid ingredients. Reserve sauce until service.
Okra Salsa
8 pieces Okra whole
ó Tsp Black Peppercorns cracked fresh
1/3 C Mango diced
1 Tsp Red Onion finely chopped
ó Red Bird Pepper finely sliced
ó Tsp Extra Virgin Olive Oil
Kosher Salt to taste
Preheat oven to 400 degrees F. Place okra on a tray and roast for 15 minutes. Remove from oven and
allow to cool fully. Slice across the length of the okra to make star shapes about ó" thickness. Place in
a bowl.
Add remaining ingredients to bowl and combine well. Season with salt to taste and set aside.
Eddoe Chips
2 Eddoes
Vegetable oil for frying
Sea Salt
Preheat the vegetable oil for frying to 350 degrees F.
Cutt eddoes into wedges. Using a paring knife, peel the skins very thinly away so you are left with thin
slivers of skin.
Place skins in fryer oil for approximately 1 minute or until crispy. Transfer to 3 layers of paper towel
to drain. Season with sea salt until still hot and wet.
Place eddoe wedges in fryer oil for approximately 3 minutes or until crispy. Transfer to 3 layers of
paper towels to drain. Season with sea salt while still hot and wet.