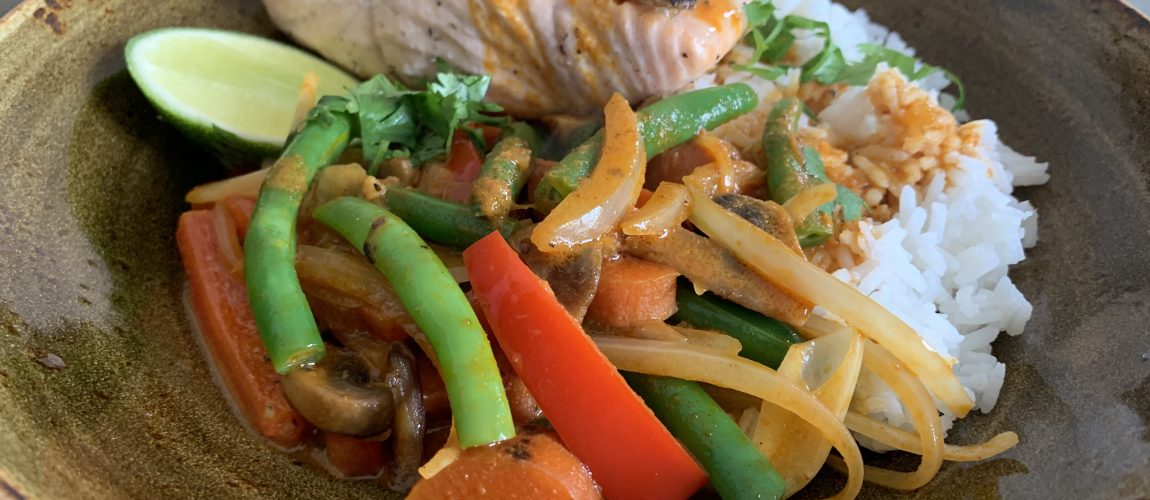 Thai Curry & Salmon
*This recipe contains a vegetarian alternative using Tempeh
Jasmine Rice
1 C Jasmin Rice
1 1/2 C Water
Place rice in a pot and wash thoroughly with water until water runs nearly clear.  Tip the pot and drain off the water.  Place 1 1/2 C water to pot and cover.  Cover the pot and place over medium heat and bring to the boil, approximately 5 minutes.  As soon as rice starts to boil, reduce heat to lowest temperature and cook covered till done, approximately 10 minutes.  Fluff rice with a fork and cover to keep warm.  
Thai Vegetable Curry
1 Tbsp Coconut Oil 
1 C diced Carrot
2 C quartered Mushrooms
1 Tbsp sliced Garlic
1 /2 C fine diced White Onion
4 Tbsp Thai Red Curry Paste
1 1/2 C Chicken or Vegetable Stock
1 x 400 mL can Coconut Milk
1 C halved Green Beans
1 C julienne Red Pepper
1 C julienne White Onion
Sea Salt for seasoning
freshly cracked Black Peppercorns for seasoning
Lime wedge for plating
fresh Cilantro for plating
Heat a pot to medium high heat, add coconut oil followed by mushrooms and carrots.  Allow the vegetables to brown on all sides.  Add garlic and diced onion and allow them to brown.  Add curry paste, stock and coconut milk and mix till all combined.  Reduce heat to medium and simmer till the sauce reduces and thickens slightly, approximately 12 minutes.  Add beans, peppers and onions, and simmer for another 5 minutes or so, making sure to keep vegetables crisp but still tender and hot.  Season with salt and pepper,  remove from the heat, cover and keep warm.  
Lime and cilantro will be used in final plating.  
Salmon / Tempeh
1 1/2 Lbs Salmon filet (skin on) OR 230 grams Tempeh
1/2 Tbsp Coconut Oil
Sea Salt for seasoning
freshly cracked Black Peppercorns for seasoning
Cut the salmon or tempeh into 4 equal portions.  
Heat a skillet to medium high heat and add coconut oil.  Season salmon or tempeh with salt and pepper on both side and place skin side down (salmon) in the pan first.  Cook till skin in crispy and browned and salmon begins to cook through, approximately 5 minutes.  Using an offset spatula or a fish spatula, gently and slowly flip salmon or tempeh and repeat till cooked to desired doneness.  Salmon should take another 5-7 minutes.  Remove pan from heat and begin to plate your meal.